We have worked with several painting and decorating companies, most of them based in Dublin, which had various focus – some of them focus on house painting (exterior or interior), furniture spray painting etc. others provide commercial painting services.
Please see below some of the articles we have written for our painting & decorating Clients as part of our monthly SEO service.
---
A GUIDE ON PAINTING WALLS IN RAINY WEATHER
It is always raining in the Emerald Isle! Based on the number of days in a year, the eastern part of Ireland experiences rain 40% of the time while the western side has 60% rainy weather.
---
WALLPAPERING OR PAINTING- WHICH SHOULD YOU CHOOSE?
Deciding on the right treatment of walls is not an easy task. Given the wide variety of options, you can quickly get confused. Moreover, the wrong choice could prove disastrous.
---
HOW MUCH DOES A KITCHEN RESPRAY COST?
The kitchen is one of the essential elements of the house. All daily food and beverages are prepared there. Hence, it is also vital that it looks good. Most house owners don't invest in respraying the kitchen.
---
TIPS ON FINDING COMMERCIAL EXTERIOR PAINTING SERVICES IN IRELAND
The appearance of your shop or commercial establishment's exterior walls matters. They are the first thing that customers see – what they base their initial impression of your business on. Hence, it is important that your exterior walls get enough TLC like your interior walls.
---
THE COST OF EXTERIOR PAINTING IN DUBLIN
Having the exterior of your house painted is one of the fastest ways of improving your property's overall aesthetics. Some even say that, once this project is completed, it is like you've gotten a new house.
---
Gone are the days when houses feature kitchen cabinets in their natural colour. Nowadays, decorators and homeowners prefer them painted.
---
HOW TO WORK WITH PROFESSIONAL HOUSE PAINTERS
Are you planning to have your house repainted? You may be tempted to go the DIY route, but the better option is to work with professional house painters.
---
BEST EXTERIOR PAINT COLOURS TO SELL YOUR HOUSE FAST
Selling a house fast is not as easy as what many homeowners picture it to be. Your property may sit on the market longer, especially when you sell your house without making minor improvements like repainting the walls.
---
TIPS FOR PAINTING AND DECORATING THE LIVING ROOM
Some people consider the living room as the focal point of the house. It is the room that guests see first. It is also the place where a lot of activities happen, from entertaining guests to doing family activities.
---
Baseboards are the wooden or vinyl boards that cover the bottom part of the interior walls. Also called skirting boards, their purpose is to conceal the joint of the floor and the wall surface.
---
HOW TO PAINT BATHROOM CABINETS
When it comes to home renovation projects, most homeowners focus on their kitchen and living room. The reason behind this is that these areas are what guests usually see. This is true, but the bathroom is equally important even if it is not one of the areas that guests see first when they enter your house.
---
A beautiful kitchen helps make the house a much better home. In fact, having a nice kitchen actually encourages some people to cook their own meals, serving as a bonding activity amongst family members. As many people say, this room is the heart of the house.
---
HOW TO PAINT WINDOW TRIMS FAST
Beautifully painted window trims add character and elegance to your house. This is why it is always recommended to have your window trims painted separately and with a different colour from your wall when you repaint your house.
---
PAINTING WOOD – TIPS ON ACHIEVING A SMOOTH FINISH
In our previous blogs, we have detailed the steps on how to paint woodwork. If you read the articles, you would know that painting on wood is not easy, especially if you want to achieve a smooth finish. It entails thorough preparatory work and the right painting techniques.
---
HOW TO PAINT WOODWORK LIKE A PROFESSIONAL PART 2
In the last article, we discussed the prep work you need to do if you want to paint woodwork like a professional.  Now, we are going to talk about the actual painting process – how to apply the paint and the final steps needed to complete this project.
---
HOW TO PAINT WOODWORK LIKE A PROFESSIONAL PART 1
Painting woodwork is a difficult skill to learn. It requires a keen eye for detail and tons of patience. Repeated practice is also essential to master this skill.
---
SHOULD ALL HOUSE ROOMS HAVE THE SAME PAINT COLOUR?
Are you planning to repaint your house? Some people who know of your plan may have recommended that you use a single colour for all interior walls. Is this the "rule" for interior painting? Should you follow it?
---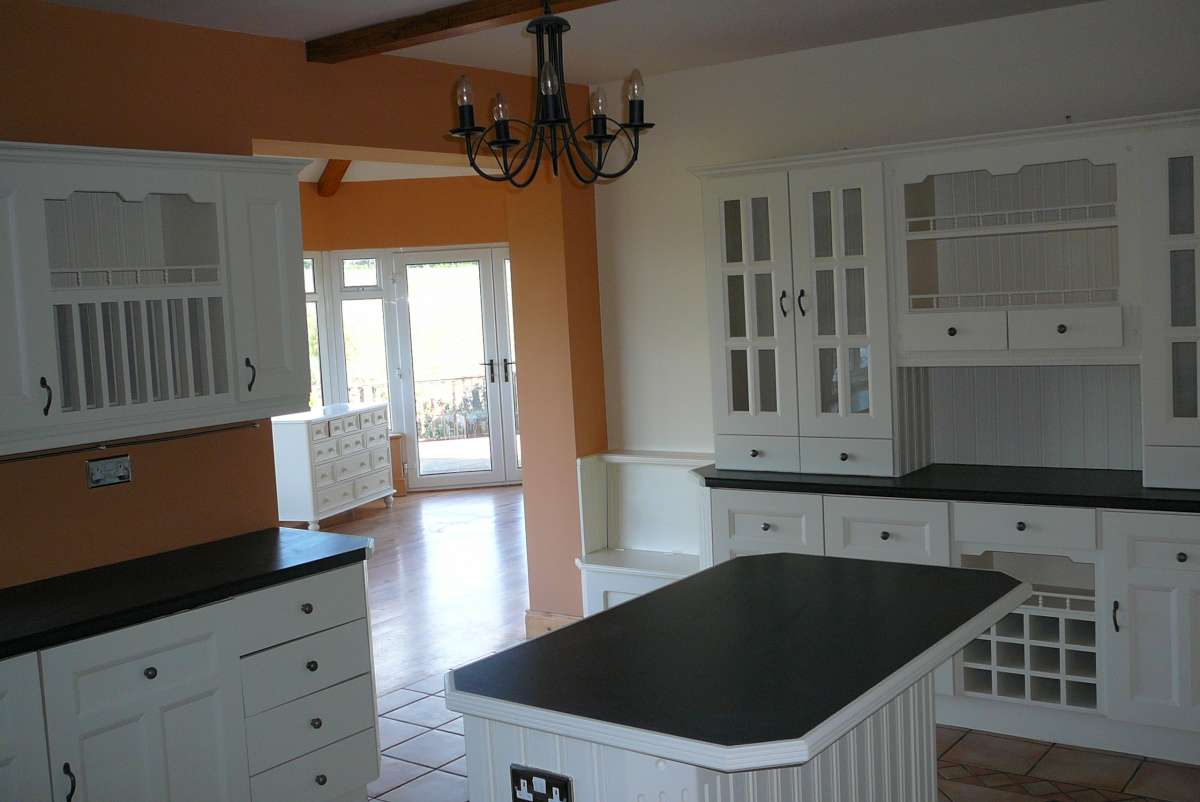 TIPS ON FINDING THE BEST PAINTING CONTRACTOR KILDARE HAS
Are your exterior walls due for a repaint? Do you simply want to give your home interiors a new look by painting it with a new colour? Whatever painting-related home improvement task you are planning, it is best to let a professional painting company do the job.
---
PAINTING KILDARE – WHY PAINT YOUR EXTERIOR WALLS IN SPRING
Spring is just around the corner. This means that Kildare, just like the rest of Ireland, is about to come to life. Picturesque sceneries and pleasant weather are going to envelop the county. This means that it is once again the perfect time for outdoor activities, including painting your exterior walls.
---
INTERIOR PAINTING – HOW OFTEN SHOULD YOU PAINT YOUR HOME'S INTERIOR?
Professional residential and commercial painters recommend that exterior house painting should be done every four to six years. But what about interior painting? How often do you need to apply a fresh coat of paint on your interior walls?
---
HOW TO HIRE THE RIGHT EXTERIOR HOUSE PAINTER
Do your home exterior walls look drab? Is the paint already peeling? These are clear indicators that you already need to hire exterior house painters.
---
WHAT FACTORS AFFECT A PAINTING CONTRACTOR'S FEES?
Hiring professional painters to work on the exterior and/or interior walls of your home is a smart decision.
---
EXTERIOR HOUSE PAINTING: WHAT PAINT SHEEN SHOULD YOU USE?
The notoriously unpredictable weather in Ireland makes it challenging to schedule exterior painting. This task cannot be done unless there's a stretch of days without precipitation. This only happens in spring and summer which is why during these seasons reputable painting contractors in Dublin have their hands full.
---
HOW MUCH DOES IT COST TO PAINT A HOUSE?
Applying a fresh coat of paint on your walls can significantly improve the appearance of your house. As what many decorators say, it's one of the cheapest ways of upgrading the look of a property.
---
SHOULD YOU HIRE A PAINTING CONTRACTOR?
Painting projects are some of the most common home improvement tasks homeowners tackle. Generally, interior wall paints last 5 to 10 years. Meanwhile, exterior walls require repainting after 4 to 6 years.
---
IS IT A GOOD IDEA TO PAINT YOUR HOUSE DURING WINTER?
Painting your house during winter is not a good idea, especially if the project involves exterior surfaces. This is primarily because the weather condition during this season can make it extra challenging to do outdoor work. Achieving a durable and beautiful paint job can also be very difficult.
---
TIPS ON CHOOSING A PAINTING CONTRACTOR IN IRELAND
The objective in a residential or commercial painting project is to improve the interior or exterior appearance of a building. Achieving this goal is only possible when professional painters do the job.
---
IS IT OKAY TO PAINT YOUR HOUSE IN WINTER?
Having peeled or cracked wall paint can be problematic if you are decorating your home for the holidays. Even if you put elegant decors, these flaws can still ruin the overall aesthetics of your house.
---
4 WAYS TO PAINT A ROOM LIKE A PROFESSIONAL PAINTER
Are you painting a room in your house on your own? Be ready because it won't be an easy project. It is a laborious task that requires patience and a lot of time. To say the least, it is a challenging endeavour, especially if you want to have a great-looking paint job.
---
HOUSE PAINTING – A GUIDE TO CHOOSING PAINT COLOURS
Many homeowners think that choosing a paint colour is the easiest part of painting a house. The reality, however, is that it is not! It is one of the most challenging aspects of this project. This is mainly because there are numerous options out there. The choices are seemingly unlimited that homeowners get overwhelmed.
---
A GUIDE TO EXTERIOR HOUSE PAINTING IN IRELAND
Many homeowners tend to miss their home's outside walls when planning a home improvement project. This is not surprising since the paint on these walls tend to last long. Often, the need to repaint only surfaces after four to six years. This is not a hard rule, though!
---
HOW TO PAINT YOUR HOUSE LIKE A PRO
When people repaint their homes, their primary objective is to improve the property's appearance. To be more precise, they want to make their houses look new. Surely, you have the same goal.
---
PAINTING DUBLIN: ALL YOU NEED TO KNOW ABOUT PAINTING YOUR HOUSE 
Does your house look dated? Do the walls appear discoloured and dirty? If you answered yes to the questions, then it is time to apply a fresh coat of paint on your home.
---
HOUSE PAINTING MISTAKES TO AVOID
Painting a wall, a room or the entire house seems easy for a lot of people. This is one of the reasons why many opt to DIY this task.
---
SHOULD YOU PAINT YOUR HOUSE IN THE SUMMER?
Make the most out of summer by undertaking home improvement projects like painting your house. Yes, you can schedule house painting during summer. You probably read that spring is the best time to repaint your house, especially its exterior walls. This does not mean though that you can't paint your house in summer. In fact, this season is also a good time to schedule this task.
---
HIRING THE BEST RESIDENTIAL PAINTERS DUBLIN HAS TO OFFER
You paint your house for aesthetic reasons, mainly to make it beautiful. To make this happen, you go through the painstaking process of selecting the right colours – from reading interior design magazines to checking out a plethora of paint swatches. Please know, however, that a successful house painting project is not just about choosing the appropriate colour palettes. It also entails picking the right people to do the job. This means hiring the best residential painters Dublin has to offer.
---
SHOULD YOU USE A BRUSH OR SPRAYER FOR EXTERIOR PAINTING?
Are you going to paint your outdoor walls or fences? Have you chosen which applicator to use? Two of the most used paint applicators for exterior painting are the brush and sprayer. But is one better than the other? Which one should you use? Read on to find out more about these applicators so you can decide which one is best for your painting project.
---
WHAT IS THE BEST PAINT FOR EXTERIOR WALLS?
Achieving an excellent output for an exterior painting project can be tough. In fact, it can be challenging to get a decent-looking and long-lasting paint job when the weather conditions aren't great. Using the wrong kind of paint can further exacerbate the problem.
---
HOW TO CHOOSE THE BEST COMMERCIAL PAINTING CONTRACTOR IN IRELAND
There is no denying that businesses need to consistently deliver first-rate products and services in order to stay profitable. However, it shouldn't be the only focus of company owners like you. It is important that you also provide excellent customer experience. This includes ensuring that your place of business looks great.
---
HOW TO PAINT A ROOM WITH A ROLLER
Painting a room, whether its walls or ceiling, is an arduous task. It is also very time-consuming with all the prep tasks you need to accomplish and the paint drying time you have to observe. Skipping these things is not a wise idea as doing so may negatively impact the quality of the paint job. In addition, this project may even take longer to finish if you do not have the right tools.
---
WHEN SHOULD YOU PAINT HOUSE EXTERIOR WALLS?
Weather is the number one thing you should consider when planning to paint your home's exterior walls. Unlike interior painting projects which can be tackled any time (or any season), outdoor painting cannot commence unless optimal weather conditions are met. For this reason, many say that exterior painting is much more difficult than interior painting. It's not just the project's schedule that is at the mercy of the weather but also the output.
---
THE EFFECT OF COLD WEATHER ON EXTERIOR WALL PAINT
Winter is coming to a close. For homeowners like you, this means it is time to schedule home improvement projects, particularly those involving the outdoors, which you've been putting off because of the freezing weather. This includes checking your home's exterior paint and possibly repainting your walls.
Do you like what you have just read? Please contact us now if you would like to discuss your SEO content strategy with us – you can call us on 019609023.
---
"We have been working with Simona for nearly half a year and her work has been incredibly valuable. With her help, we have developed and refined a great content marketing strategy that has given our website fantastic credibility within our industry."Robert Brooks, FindingNature.co.uk

"After our website redesign and SEO by 3R we've had a very successful month again with over 20 new clients most weeks so were very happy with this, thanks so much." Beth Fitzpatrick, AccessCounselling.ie

"We are starting to get calls from the site and we are very impressed with all the product descriptions you wrote for us. The information on mop sinks was so good that I nearly rang the number to buy one myself… Thanks for all your hard work!" David Moran, Director, BKRstainless.ie

"
From redesigning our website, to search engine optimisation and Google Ads management, we are now confident in saying that our online leads increased by at least 100% which is a direct result of the work 3R has been doing for us." Pat Duffy, MD, Office Technology Ltd.

"Our relationship has lasted over two years now and we are very happy with the results which 3R have achieved for us. We appear in the number one place for all our relevant search terms and while our ability to expand is limited because of the nature of our educational business model we have achieved full enrolment on our programmes in a much shorter timeframe than that which existed before using SEO." Greg Merriman, National Training Centre, NTC.ie